CIC's genesis: A Temasek's style sovereign fund in charge of managing the foreign exchange reserves
China Investment Corp. (CIC, 中国投资有限责任公司) was established in 2007, carved out of China's then-ballooning foreign exchange reserves, and dedicated to its management. The China Investment Corporation was established with the intent of utilizing these reserves for the benefit of the state, modelled according to Temasek Holdings of Singapore. The state-owned Central Huijin Investment Corporation (中央汇金投资有限责任公司) was then merged into the new company as a wholly-owned subsidiary. CIC today has USD 940,604,000,000 under management and therefore is the third-largest wealth fund in the world, following the Chinese State Administration of Foreign Exchange (SAFE, 国家外汇管理局) and the Norway Government Pension Fund.
According to its website, CIC operates on the following four main principles: 1. seeking maximum returns within « acceptable » risk parameters; 2. investing for returns instead of corporate control; 3. acting as a « responsible investor, abiding by the laws and regulations of China and recipient countries and conscientiously fulfilling its corporate social responsibilities »; and 4. conducting deep research for a prudent and disciplined decision-making process. Investment decisions are run by committees
The management and Board of the China Investment Corporation ultimately report to the State Council of the People's Republic of China. The China Investment Corporation is seen as being firmly entrenched in the political establishment as the composition of its Board of directors implies considerable influence on the part of China's Ministry of Finance.
The fund, subject to financial supervision by the Ministry of Finance, also faces competition from the State Administration of Foreign Exchange, which manages foreign exchange reserves. SAFE comes under the central bank, which also provides funding to CIC.
A double head for CIC: Peng Chun the bureaucrat and Ju Weimin the international figure
Peng Chun (彭纯) was appointed as the new Chairman of CIC in April by the State Council of the PRC (see the graph above), after he resigned for the position of Bank of Communication's (交通银行股份有限公司) Chairman and Party Secretary. Peng began his career in Xinjiang province, where he was first as an official at the People's Bank of China's branch, then at the provincial cadre school and later at the provincial government. He began his career in banking in 1994 when he joined BeCom as the deputy branch manager in Ürümqi, Xinjiang, and worked his way up to become the bank's deputy president in 2004.
Peng briefly left BoCom to work for CIC from 2010 to 2013, serving as the deputy general manager of CIC and the general manager of Central Huijin Investment, the domestic arm of CIC that mainly invests in large state-owned financial institutions. This three-year experience gave him a good outlook of the structure and its goals.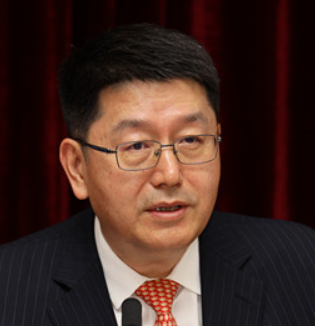 Beside Peng newly appointment, Ju Weimin (居伟民) who was until then Deputy General manager of CIC was appointed General Manager. According to many experts of the sector, Peng is a career bureaucrat and more of a political appointee, while Ju, a fluent English speaker, is an experienced finance professional with an international perspective. The duo's task will be to help CIC continue to achieve its core target of preserving China's forex reserves.
Peng's appointment has political significance in the current environment, as the Chinese government faces fiscal and financial challenges amid its plans to revive the economy, ease the debt burden of local governments, tackle the looming pension shortfall, and build infrastructure projects domestic and overseas. The position appears as a heavy one, as the head of the fund comes under intense scrutiny as they have to deliver on returns while taking the blame for poor investment decisions.
Disappointing results in 2018 due to the Sino-US trade war?
As shown in its 2018 annual report, China sovereign wealth fund CIC's net profit fell 37.2 per cent to USD 65.1bn from USD 103.6bn a year ago. Investment income totaled USD 67.8bn, down from USD 114.46bn in 2017. The 2.35 per cent negative return on its overseas investment portfolio in 2018 contrasts with the gain of 17.6 per cent recorded in 2017. Officials point to the escalation of trade war with the United States, frequent geopolitical disputes and the slowdown of major economies as the culprits for the weak performance.
As quoted by Ju Weimin, while the US is a major investment destination for the fund, the bilateral trade tensions have forced the CIC to take a more cautious view of the situation in the US, which CIC head is watching closely.
Making room for alternative investments
CIC has cited volatility for wanting to reduce its exposure to public equity markets. As part of its plan to have as much of 50 per cent of its portfolio in alternative assets by the end of 2022, the sovereign wealth fund last year slashed the proportion of stocks in its overseas portfolio, and at the same time is increasing alternative investments, such as hedge funds, real estate, commodities, infrastructures and direct investment. By the end of last year, alternatives accounted for 44.1 per cent of CIC's overseas investment portfolio, up from 39.3 per cent in 2017. The ratio could rise further this year, according to Mr Ju.
According to data from Sovereign Wealth Research, a unit of IE University in Madrid, CIC already has among the highest proportion of investments allocated to alternative assets among state-owned global money managers.
Going back to domestic market and rescuing China banks
The fund now plans to focus on the domestic manufacturing, technology and healthcare sectors. "Our biggest strength is the Chinese market," said Mr Ju. "We want to connect it to foreign technology."
Another part of CIC's activities that seem currently growing is the rescuing of China second-rank banks. Central Huijin Investment, a unit of CIC, said it planned to invest in Hengfeng Bank, a troubled local lender in Shandong province, the third intervention of this kind this year following more than a decade without a government bank rescue. Mr Peng said he expected financial failures to become "a fact of life". He added: "Going ahead, Central Huijin will continue to address financial institution risks according to regulators' instructions and adopt market-based principles to turn bad banks into good banks." The Chinese crackdown on shadow finance — higher-risk non-bank financial products and lending — has put the nation's banking system under stress, driving many smaller lenders, which were active in issuing off-balance-sheet loans, into crisis.
Two analysts working at Banque de France recently published an article entitled "Draining bad loans in China: bad banks are not enough", which precisely exposes the role of Chinese AMC's and the way they address current bad loans issues.